WebFX is a leading SEO and digital marketing agency that has consistently been ranked among the best in the world. It provides some of the best SEO services we've seen for websites and internet users of all types.
One of WebFX's main claims is that it has generated nearly $2.5 billion in revenue for clients around the world over the past five years. That alone suggests that it's a company worth using if you're looking for high-quality SEO services that are likely to deliver results.
In order to help you decide whether or not it is the right company for your needs, we have put together the following WebFX review, which includes an in-depth analysis of various aspects of its SEO services.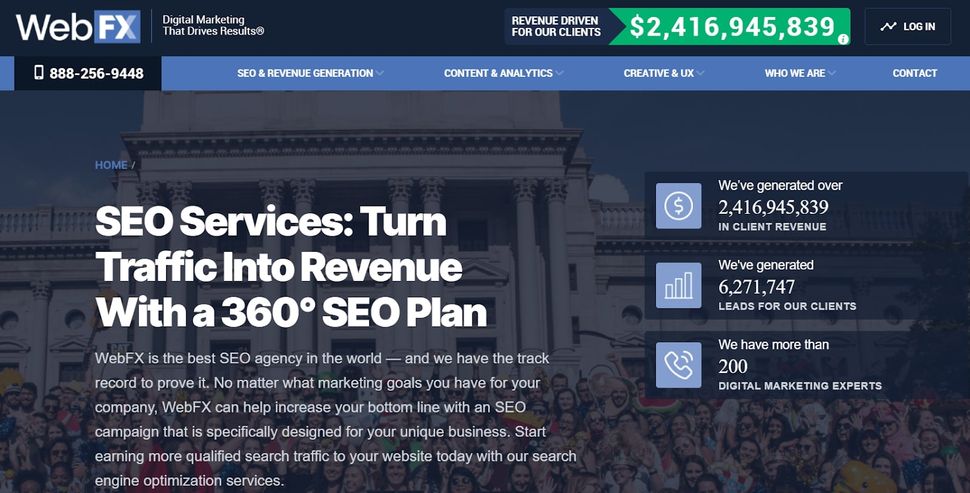 WebFX: Plans and Pricing
Most SEO agencies and service providers have a flexible pricing structure that involves quotes being worked out on a case-by-case basis. Unfortunately, WebFX does not. Instead, it has pre-made SEO packages that come with a specific amount of work and cost a certain amount per month.
At the cheaper end of the spectrum, the Aggressive plan costs between $3750 and $4250 in total for the first two months and $975 per month thereafter. It gives you on-page optimization for up to 80 keywords and keyphrases, a full technical audit, up to 10 pages of content development, and access to regular updates and analysis.
Upgrading to Market Leader ($5250-$5750 initial investment, then $1475 per month) or Trailblazer plan ($7000 initial investment, then $2975 per month) will provide more advanced SEO solutions.
For high-end clients, WebFX offers custom business plans that are developed with your needs and long-term goals in mind. It also provides full SEO audits starting at $2600 per audit, SEO copywriting starting at $150 per page, and much more.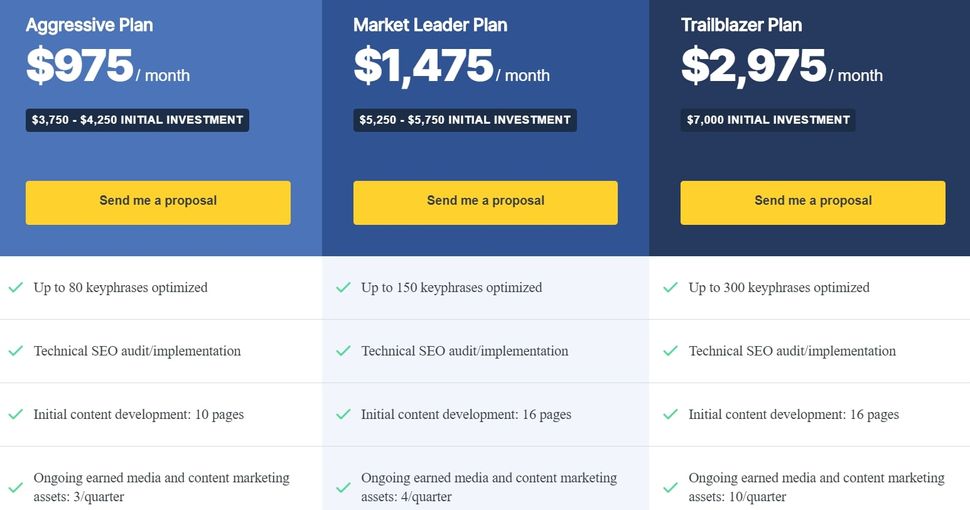 WebFX: how it works
When it comes to the long-term management of ongoing SEO campaigns, WebFX uses a custom ROCKET strategy. It involves six clear steps: research, optimize, content, keywords, media and links acquired and test.
Basically, the team will work alongside you to ensure that the most appropriate strategy for your website is implemented, regardless of your exact needs. The ROCKET process is cyclical, meaning it is always revisited and revised, so you can rest assured that your hard-earned money is being put to the best use.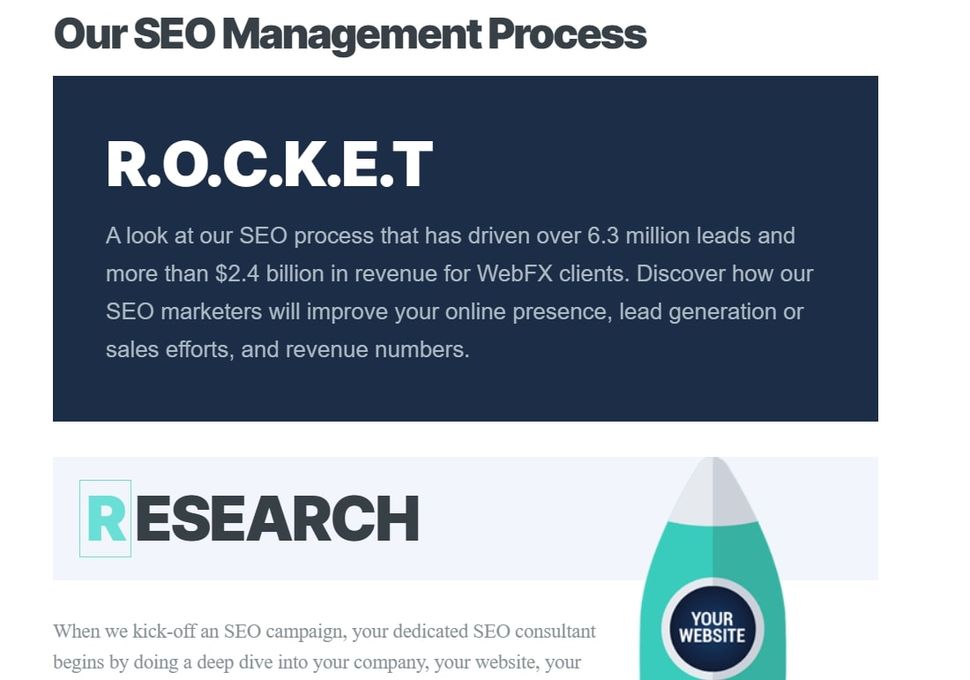 WebFX Features and Services
WebFX has one of the most comprehensive SEO service offerings we have ever seen. Some of its most notable services are as follows.
One thing WebFX does well is their selection of comprehensive SEO audit packages. If you buy one, you'll be able to work alongside the company's experts to determine exactly what work your website needs and where you should focus your budget.
WebFX also offers a range of SEO-friendly copywriting services at a very affordable price. Basically, the company will create content to your specifications, with a focus on driving traffic to your website.
Another thing that WebFX does extremely well is market referencing. The company works with platforms like Amazon, Facebook, Shopify and Walmart to improve your product rankings and increase your sales.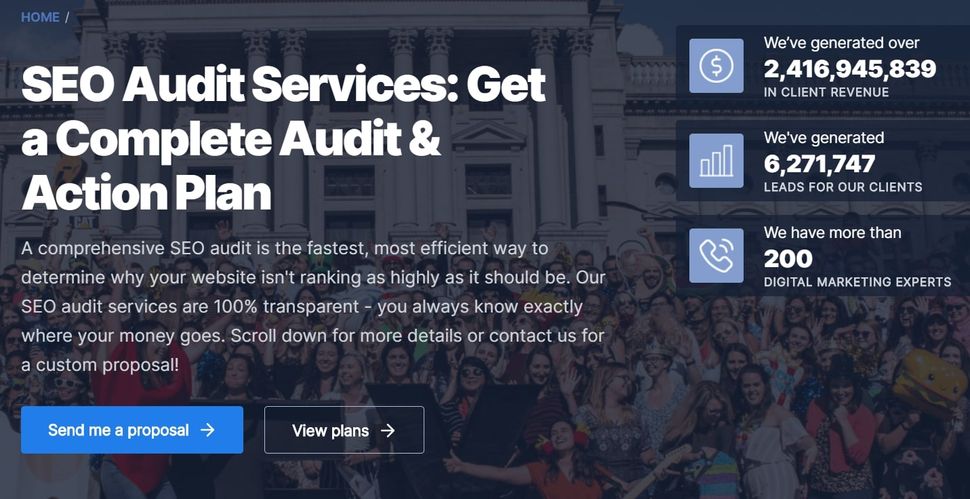 WebFX: Support and Customer Service
In order to determine the quality of WebFX's ongoing support and customer service, we did two things. First, we analyzed the company's website to determine what kind of claims it makes. If you sign up for an SEO plan, you'll get a personalized strategy that's always fine-tuned, a full SEO audit, monthly competitor analysis, transparent reporting and analytics, and a dedicated account manager you can contact if you have any questions. need.
We also scoured the internet and read countless customer reviews to find out what people who have used the company in the past thought of its service. And overall things were extremely positive. For example, WebFX has a 4.9 star rating out of 183 reviews on clutch.co, one of the world's leading review sites. On top of that, many of the top reviews focus on customer service and the ongoing excellent support people receive.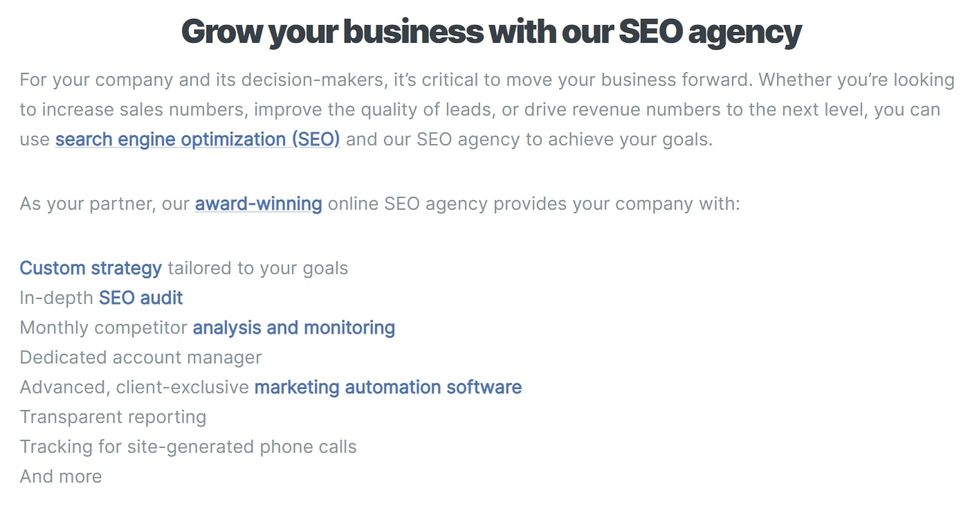 The competition
WebFX has consistently been rated one of the top SEO agencies in the world, which means it's likely to be the best option available to a large percentage of those looking for high-quality SEO services. However, that doesn't mean there aren't alternatives to consider.
For example, SocialSEO is a rapidly growing company that focuses on developing custom SEO solutions for everyone from small local businesses to multinational corporations. You might find it a bit pricey compared to WebFX, but you will benefit from getting a custom SEO plan developed just for your business.
Alternatively, you may decide to head to a platform like Upwork.com to find yourself an SEO expert you can work with directly. Working with a freelancer will generally be cheaper, but you need to be careful who you choose to ensure you get the service you expect.
final verdict
All things considered, WebFX appears to be a reliable, high-quality SEO agency that focuses on customer service and optimizing the SEO experience. Its rigid pricing structure won't suit some people, but other than that, there's very little to dislike.
For example, WebFX provides outstanding ongoing customer service, offers high-quality SEO copywriting and market optimization, and follows a clear process that's proven to work for thousands of customers.
Overall, we highly recommend you consider WebFX. You might decide it's not the right fit for your needs, but chances are you'll like it.
Further reading